Creative For A Cause


Comments Off on Creative For A Cause
We're excited to partner with Ad Age and Internet Week NY on a great project called Creative For A Cause, where designers competed on an ad campaign for the organization Code/Interactive. The ads are meant to stops people in their tracks, inspire action and encourages everyone to learn more about C/I's mission to help at-risk inner-city youth.
C/I's mission is to inspire and equip underserved students with the skills in computing, leadership, and professionalism needed to thrive in the Internet economy and beyond.
The winning ads seen below play on the word "escape", using the "esc" key to symbolize the desire to seek a future beyond the inner-city.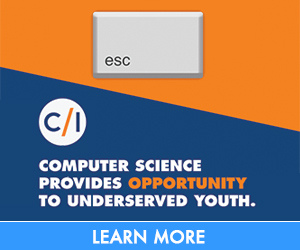 We think this is a evocative way to communicate the power we all have to inspire at-risk youth to build valuable technical skills.
This campaign wouldn't be possible without the generous participation of some great publishers. Some of those donating ad space to the cause are Yelp, Scripps, Microsoft, SheKnows, Business Insider, Xaxis, and more. If it weren't for these companies' vision to use their reach to deliver and an important message, great organizations like Code/Interactive would never get the exposure they sorely need to get their voice heard.